Core cutting is a process of controlled sawing, drilling and removal of concrete performed by skilled operators using special saws that use diamond impregnated blades. Unlike the old-fashioned dusty "jack hammer" method, modern concrete cutting leaves a smooth attractive finish and utilizes water so as not to create any dust or mess. There are many different kinds of concrete cutting but the most common are wall sawing, core drilling and slab or flat sawing.
Wall Sawing is the process of cutting openings such as doors or windows in concrete walls, usually no more than 12" thick but in some cases up to 24" thick. This is accomplished by using a saw that attaches to a track on the wall to be cut. This process utilizes an enormous 30" or even larger diameter diamond blade that can cut 12" or more of concrete all of the way through from one side. This aspect of our business requires the most skill and cannot easily be done by your average "do it yourselfer." As stated, wall sawing may entail cutting openings in concrete foundations but may also include lowering a foundation elevation, entire foundation removal and also the cutting of concrete retaining walls in part or in whole. This type of concrete cutting requires skill and experience to cut perfectly smooth plumb and level openings with virtually no dust or mess, so it is a rather expensive service. Most concrete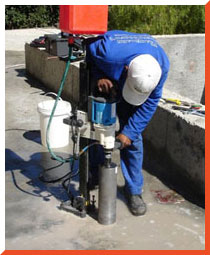 Homeowners that build additions on to their home that have basements or cellars commonly find they need to cut into their existing concrete foundation to add an entry or passage between the new and existing basements. It is much easier and in most cases less expensive to have this service performed during the construction process and not after.