Failure of the Facility/ Building to comply with the latest NBC regulations and exposing the residents/team members at serious risk from fire is in itself a serious crime.
Stork Systems can assist building owners occupiers, employers insurance companies by conducting a thorough survey of your building and identifying:-
Deficiencies in the active & passive fire protection features for the building

Deficiencies in the management procedures for the building

Deficiencies in the emergency procedures for the building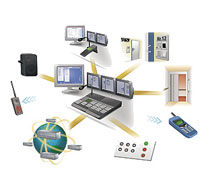 Our Audits would incorporate the following.
Undertake adequate risk assessment of all fire hazards.

Carry Audits to ensure that the workplace is equipped with appropriate fire fighting equipment, fire detectors, and alarms and that any non-automatic fire fighting equipment is easily accessible and easy to use.

Keep emergency routes clear and comply with specific criteria relating to routes and doors.

Take measures for fire fighting. Nominate and train employees to implement those measures and arrange contacts with outside emergency services.

Audit Safety Signs and Signals indicated. Compliance with latest NBC Regulations

Maintain a suitable system of checks and for fire precautions in relation to the workplace and all equipment is kept in good working order.

We audit the means of escape in case of fire

Check Emergency lighting

Check Fire separation

Check Fire signage

Check Disabled access & means of escape provisions

Check Flammable storage facilities

Check Fire records

Check Fire training
The audit will include a comprehensive report incorporating the observations, recommendations required to ensure that the building complies fully with current fire safety.