If we observe in modern day buildings we can find the number of basements and the vertical heights of buildings are increasing and effective ventilation/airconditioning and smoke extraction becomes a challenge and in the event of a fire smoke has to controlled and extracted in a safe and effective manner bcos smoke travels faster and kills more people than the actual fire itself which is why the fire rated duct sytems comes into picture.
We can provide fire rated ducts tested to different standards for fires from within the duct and fire outside the duct with different fire ratings from 2 hrs to 4 hrs depending on the building requirements.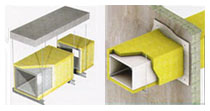 Most duct work systems can fall into one or more of the following categories.
1. Ventilation and airconditioning.
2. Natural smoke extract.
3. Fan assisted smoke extract.
Two types of duct protection is possible
1. Cladding the existing GI duct system.
2. Self supporting duct work systems depending on the requirements.